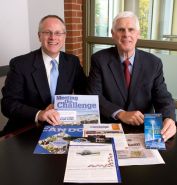 CAN DO, Greater Hazleton's economic development agency and Precision Design client, recently received awards from a multi-state group for six of its marketing publications released in 2009.
The Northeastern Economic Developers Association (NEDA) presented CAN DO representatives with one Best of Class/Superior, one Excellent, and four Merit awards in the 2009 NEDA Literature & Promotions Competition.
"NEDA's Literature & Promotions Awards recognize the very best – and most effective – communications work in our profession. The staff of CAN DO may be justifiably proud that your work has met the test of their colleagues and competitors from throughout the Northeast," said Eric Anderson, executive director of NEDA.
"SiteLines," the newsletter of the CAN DO Marketing Department, received the Best of Class/Superior award. Judges noted its design and eye-catching title.
The CAN DO Energy Solutions brochure, which touts the agency's green energy efforts, received a score of Excellent.
The 2008 CAN DO Annual Report to the Community, "Communiqué" e-mailed newsletter, "What Vision … CAN DO" general purpose brochure, and "Hazleton, PA is on a (Tootsie) Roll" printed advertisement all received Merit Awards.
"The CAN DO staff is constantly trying to produce eye-catching, high-quality materials to attract new jobs and new economic opportunity and inform the public about what we do," said CAN DO Chairman of the Board John Spevak. "On behalf of the volunteer CAN DO Board of Directors, I applaud the staff for its hard work and dedication and commend the employees for their awards."
The awards were received during NEDA's 53rd Annual Conference, which was held in Philadelphia from Sept. 20 through 22.
"The CAN DO team works very hard to promote Greater Hazleton, so it is rewarding to see our efforts recognized by an outside agency like NEDA," said CAN DO President W. Kevin O'Donnell. "It's very gratifying to receive six awards, and it encourages us to keep moving forward, especially in these challenging economic times."
Joseph Lettiere, vice president of sales and marketing; Bernadette DeBias, director of business development; Nancy Stasko, assistant to the president; Melissa Frederick, marketing specialist; and other CAN DO staff members worked with Precision Design, an advertising, marketing, and public relations agency in Hazleton, to create the winning entries, O'Donnell said.
The Northeastern Economic Developers Association, the leading economic development organization in the northeast, provides education, resources, advocacy, and networking opportunities for its members. Since its founding in 1956, NEDA has promoted professional economic and industrial development throughout the Northeastern United States, enabling its members to strengthen their local and regional economies and enhance overall quality of life. NEDA champions effective, innovative economic development practice, and is the Northeast's strongest professional resource for economic developers.